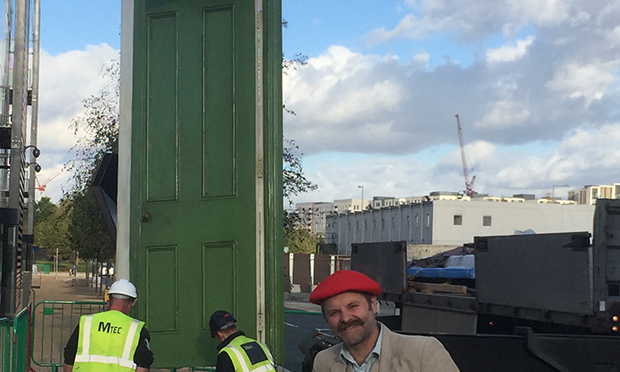 A surreal sculpture by renowned British artist Gavin Turk has been unveiled in Hackney Wick.
Members of the public walking past Here East this week might have spotted a large, painted door standing alone in the breeze.
People are encouraged to walk through it and let their imaginations run wild.
The sculpture, called L'Âge d'Or,  is made out of bronze but has been painted to give the appearance of being wooden and well-used.
It is a "surrealistic suggestion looking at the idea of threshold", according to the Wick-based artist.
"There's a historic touch to it – let's call it old-fashioned – that brings to mind a sense of history.
Turk fizzes with ideas and curiosity about what the door represents for both himself and his audience – and it is designed to provoke exactly that kind of reaction.
"I am interested in trompe-l'oeil [French for 'deceive the eye'] and the illusionary element of art. It encourages people to think deeply and more creatively about what they are seeing," he explains.
As if giving his own example, he adds: "Before I made the series of doors, I was making giant eggs, and it's exciting for me to compare eggs to doors. Because an egg is basically a big door for a baby chick."
There is a playfulness to L'Âge d'Or. The title, which translates as 'golden age', is more than a glaring pun – it derives from the 1930 surrealist comedy of the same name, written by Luis Buñuel and Salvador Dali.
And Turk also drew inspiration from Belgian artist Rene Magritte, whose famous painting of a tobacco pipe was underscored with the words 'Ceci n'est pas une pipe', meaning 'This is not a pipe'.
"When is a door not a door?" Turk asks. "When it's ajar. It's an old English joke but it brings to mind Magritte's pipe, which asks a similar question. When is a pipe not a pipe? When it's an image of a pipe."
On a simpler level, the door symbolises Here East's commitment to providing homes for the local creative community. The venue, which is located in the heart of the Olympic Park and includes workspaces, shops and restaurants, is to offer 22 affordable studios for artists from next year.
Gavin Poole, Here East's chief executive, said: "This participatory public artwork fits perfectly with our vision for Here East as a major cultural and creative hub for London, and will greatly enrich the experience for visitors and for the creative business and individuals based on the site."
This aspect of the artwork is not lost on Turk. He is all too aware of the plight of artists at nearby Vittoria Wharf, many of whom were recently evicted to make way for a new development.
"It is important for any culture to have artists," he says. "They bring energy to any social environment. I would encourage respect for them. The problem in the UK is that they have become an underclass. They've just been acknowledged as the lowest rung of the gentrification process, but actually it's because artists are adaptable. They can make good of run-down places."
The hope is that the door is now opening onto a golden age of art in East London.