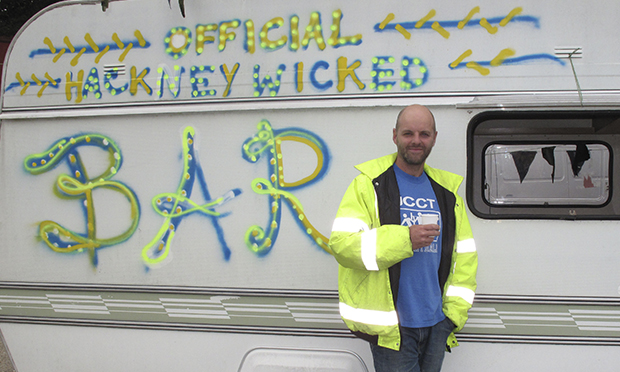 Plans to ringfence dedicated zones to offer protection from developers and rising rents have been given a cautious welcome by Hackney Wick artist Gavin Turk.
Mayor of London Sadiq Khan's culture chief Justine Simons is working on proposals to stem the numbers of creatives being priced out of the city through the creation of a "creative enterprise zone".
But Turk, who is considered one of the Young British Artists whose work gained notoriety at the Sensation exhibition at the Royal Academy of Art in the mid 1990s, told the London Citizen that there were pros and cons to such schemes.
He said Simon's proposals were "all good" but that they "might start to create an unfortunate situation where you say one artist is worth keeping and another isn't".
Turk added: "There is culturally a problem in this country where the arts are seen as a Sunday activity, and accordingly artists are an underclass who aren't very well paid."
He also warned there could be "problems with the idea of government legitimation of art".
He said: "When I was doing a residency in Paris back in the late 1980s, the government there were keen to protect artists in certain areas – so in the Bastille you had artists running away from the government's patronising [of them] because they felt it undermined the creativity of their practice.
"There's a massive contradiction there, and it's a very difficult thing to approach."
But the 48-year-old artist praised Ms Simons for taking steps to stop artists being priced out of London.
"UK culture is quite bad at seeing and respecting art, but the country actually does quite well by its creative cultural production: design, art, advertising, film and music," he said.
"So it's good that she [Simons] has made a call and said 'let's go appreciate these artists and make an investment in them'."
Turk's current exhibition at Hackney Wick's Béton Brut Gallery tackles the subject of gentrification.
"It's a story that's told over and over: artists go to cheap places, they create an energy, and people start to be drawn to these areas, and then property developers see that attraction and excitement and start coming in to build flats," Turk said.
"It's funny, because in a way artists are actually part of the gentrification process. There's actually an economic value to their cultural capital – artists are financially valuable.
"Developers should almost be paying them, but how do you do something like that legislatively? Maybe there could be studio spaces on the bottom floor of these expensive flats? But then, I'm not sure artists would be interested."
Professor Simon Robertshaw from the University of East London is among those who have given their backing to the idea of protected areas for artists.
He said: "The way in which London actually supports its artists isn't great. I think we've got to start having protected zones for artists' rents.
"My staff who are artists are now moving out of London to Margate or Folkestone or Hastings because that's what they can afford."